Pakistani lawn is popular all over the world and women go into a shopping frenzy whenever there is a discount sale on lawn collections by top designers. Mid of February witnesses huge clearance sales and all brands offer heavy discounts on winter stock. Women from all walks of life flock in to get their hands on the newly launched articles, owing to the designer lawn craze in the country.
The soft and lightweight fabric mostly made out of cotton, lawn is the perfect choice of material for hot summer months in Pakistan. This semi-transparent and breezy fabric can be sheer, gauzy or sometimes opaque depending on the quality of the lawn material. Best quality lawn fabric is the one that is super light, soft and breathable. If the lawn is pure, it won't get wrinkled up easily or cling to the body.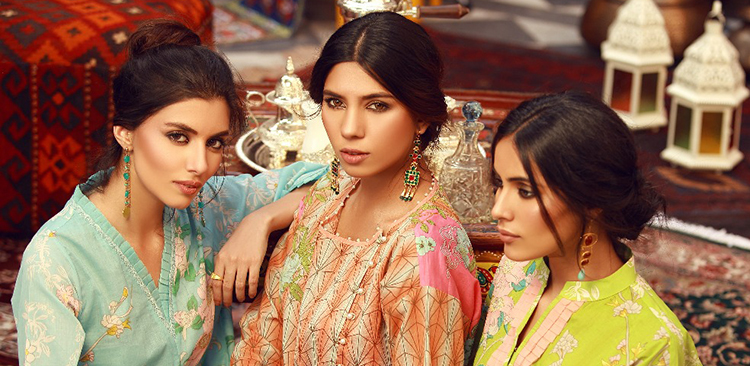 Summers in Pakistan are long and excruciatingly hot. There aren't many fabrics that can be worn during the summers to prevent the body from getting overheated. Lawn being one of the most breathable and lightweight material is the favorite summer fabric of the masses. In some parts of the country with a tropical climate such as Karachi, lawn is worn around the year as it is the only suitable material. Following designers are popular for launching 3 piece unstitched lawn collections every year. Each collection is divided over several volumes.
Alkaram
Alkaram is the first-ever Pakistani brand to start the trend of 3 piece unstitched designer lawn suits with accessories. Pure lawn fabric is used to curate these pieces with prints as well as embroideries. Some suits are paired with chiffon dupattas and some with lawn. The chiffon dupatta ensembles are expensive than the ones with lawn dupattas.
Warda
One of the most affordable brands in Pakistan, Warda unstitched lawn collection uses prints all over the shirts and dupatta. The printed designs are akin to block printing and use the same motif throughout the shirt piece. Dupattas come with printed borders and tiny motifs all over.
The unstitched lawn articles that have embroidery on the neckline, sleeves and front panel are a little expensive than the non-embroidered printed ensembles. Trouser fabrics are usually plain and some have intricate print motifs around the edges.
These unstitched pieces come in 2 to 3 piece suits completed with lawn dupattas. Warda unstitched lawn is durable and is great for everyday wear. It is preferred by women who like to wear a full 3 piece lawn suit rather than pairing lawn suit with a chiffon or silk dupatta. The colours are ethnic and textile inspired with darker tones and rich earthy base colours of crimson, ochre, browns and greens.
Sobia Nazir
A luxury lawn brand, Sobia Nazir has made a mark in the fashion industry with her extravagant designs that exude pure decadence and luxury. Her unstitched luxury lawn collection is nothing short of the perfect formal wear at summer weddings or parties. The most eyecatching thing about her lawn suits is the use of semi-precious stones and intricately embroidered patches on elegant and sheer fabrics like tissue or organza. These embroidered addons can be appliqued on the shirt, trousers and dupatta for a formal look.
Khaadi
Widely popular, Khaadi has long been in the fashion business and has been catering to the sartorial needs of women and men alike. Khaadi unstitched lawn collection has garnered a huge fan following ever since its launch. The design philosophy behind Khaadi apparels is simplistic and day to day wear comfortable clothes. Unstitched ensembles come in 2 to 3 piece lawn suits that are paired with chiffon, lawn or in some cases, net dupattas.
Nishat Linen
One of the firsts to give customers the freedom to buy unstitched fabric by the meter. Plus-sized ladies need not worry about unstitched cloth not being enough for their size. Nishat lawn designs are low key yet timeless with individualistic styles and prints. The brand offers distinct clothing patterns in loose cloth, three-piece full suits. Their intricately embroidered suits are a rage amongst women of all ages. Nishat lawn collection has a wide range of unstitched suits with flowy chiffon or lawn dupattas.
With summer just around the corner, Pakistani clothing brands have already started launching lawn exhibitions. The unstitched 3 piece lawn suits are sold like hotcakes and go out of stock within a few weeks of launch as they are the most sought after designer wear after ready to wear Kurtis. So go grab a 2 or 3 piece lawn suit from your favourite brand before these ensembles run out of stock.