Every girl dreams of her wedding day; when finally the day comes into her life, she needs to see herself stunning and beautiful from all of the other brides and even in this world. All these dreams tell how much she deserves for her wedding day and how delightful she needs.
Dresses designed for brides are not only for fashion but also contain the country's culture and traditions. Keeping in mind for the colorful culture of the country, some designers bring a lot of designs and a mesmerizing range of Bridal dresses for making the precious and memorable day for brides. In these designers, the list includes – Asifa and Nabeel, Deepak Parwani, Mehdi, Maria B, Sana Safinaz, Karma, Umar Sayeed, Nomi Ansari, HSY, Fahad Hussayn, Zainab Chottani, Asim Jofa, Teena Durani.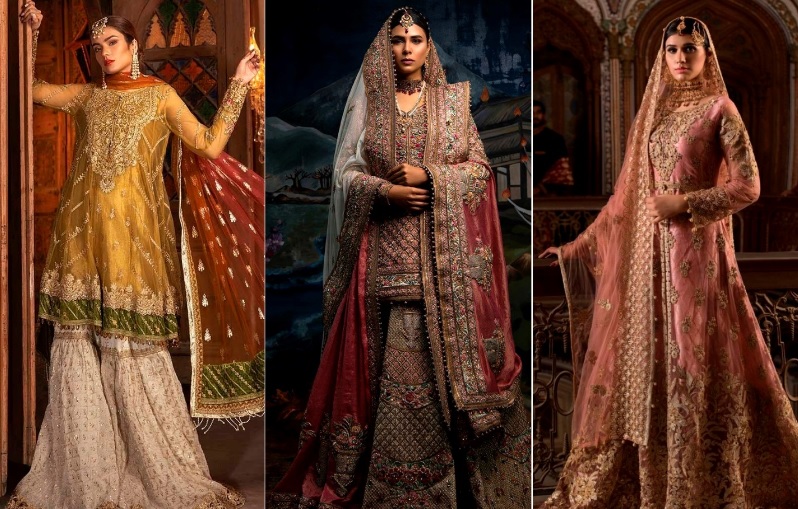 The thought of best bridal collection makes them describe for the best bridal apparel and make their name in a top list of Pakistani wedding dresses collection. Here is the list and description details of top 10 Pakistani wedding dresses;
Nomi Ansari
One of the best and top-ranked designers of Pakistan, Nomi's Bridal wear collection is fantastic. He made a fabulous masterpiece with his creativity for the bride's big day. The latest collection of Nomi Ansari's gives the colossal range of multi-colored lehengas, Maxi, short tail kurta, Peplum frocks, sharara with its extraordinary crafting art creativity.
Multi-shaded colored lehengas with the combination of the choli, frocks give a tremendous look to wedding wear.

Asim Jofa
When it comes to the topic of wedding collection, Asim Jofa is on the top-ranked list from these. He presented fabulous wedding dresses. His collection of dresses has cumbersome embroidery work and mostly having the Banarsi work for bridal wear. The most wedding wear collection of Asim Jofa heavily deals with Resham, combining golden and offwhite colors.
Asim Jofa's clothes collection is great to look at, and the stuff use in his clothing is just pure and smooth. Designs due to embroidered motifs at bridal lehengas and peplum frocks make a fantastic impact on girls. Undoubtedly, they are the best collection, and Asim Jofa is the top finest designer of Pakistan who wins the hearts of women and breaks the shows with his fabulous ramp walk couture with his fancy collection and show stopper stars.
Fahad Hussayn
There is an extensive range of styles or experts with an extraordinary mastermind – Fahad Hussayn, who has a vast collection for brides and the groom. Fahad's signature dresses and bridal's masterpiece use an extensive type of design. His designs are known as his traditional hand embroidery, amazingly crafting ideas, artistry design, unpredictable embellishment, and contemporary patchwork techniques with a lot of color combinations.
His collection is loaded with heavy embroidery, and he gotta work, lehengas, dupatta, choli with heavy Gota work, and embroidery to make a complete look for the bride.

Sana Safinaz
A tremendously heavy range of brides is all available at Sana Safinaz stores. Bridal wear, which we mostly look on television bridal week couture, has a collection from one of these. This brand mainly focuses on shimmery work, zari, Dabka, Zardozi, and cutwork.

Maria B
Pakistan's top leading brand Maria B founded by Maria Butt, is famous for high-quality dresses. Bridal dresses are made on order by taking an appointment. Maria started her business from Lahore, and her designs are nearly close to Pakistan's traditions. Heavy long lehengas with a load of heavily embroidered shirts in multiple brides wear colors.
Her latest collection of bride's wear is all available at her latest bridal couture of wedding series. Her collection has mostly been in focus on very light colors with heavy work.

Mehdi
Another top-ranked Pakistani designer – Muhammad Mehdi, who is the most famous in all type of fashion in Pakistan. His bridal collection is the most luxurious in the nation, inspired by both Eastern and Western.
His wedding collection and his fabulous gowns are all about contemporary shades of blended colors with traditional looks. His collection of lehengas is not so heavy, but they are mostly designed with Gota, sequins, or karahi work.
HSY
An international fashion label known to be HSY – Hassan Sheheryar Yasin, is the topmost Pakistani designer in the list of Bridal wear. While designing the bridal wear, the main focus of HSY has been to showcase a diverse bridal collection keeping in mind the rich cultural heritage of the East.
He has a vast range of Bridal wear collection with multiple combinations of shades, embroidery, and heavy work on lehengas, choli, frocks, gowns, sarees, shararas, sharara. The top-ranked 2020 collection of bridal dress of HSY is;

Deepak Parwani
When the name of creativity comes, Deepak Parwani is on the top of that list. Every single dress of Bridal wear is different from each other. With vast and tremendous artwork and crafting ideas would be seen in his collection. In this collection, peach, pink, crimson red, and tea pink should be in focus.
The unique collection of embroidery with a good quality of fabric stuff like chiffon and georgette make his collection even more expensive and unique. Not only for the bride, but Deepak Parwani also bring a wonderful collection for the groom's wear.
Karma
Karma is a women fashion clothing brand in Pakistan that is famous for luxury pret and bridal wear. The ornately embellished Karma traditional red bridal dresses are magnificent for a bridal look.
The latest collection by Karma is full of fashion designs having a vast range of sarees, heavily embroidered lehengas, sharara, gowns.

Umar Sayeed
Umar Sayeed always takes a massive collection of the same combination dresses but with a lot of creativity. In his collection, the same color is made a whole combination of bridal gowns. We will mostly see in his collection with magenta, grey, plum, pistachio green, tea pink, and peach under the full consideration of traditional touch.