Getting engaged can be an exciting, whirlwind process. Between dress shopping, wedding planning, and bridal showers, many brides get up to the days before their wedding and still don't have any idea what to do with their hair and make-up. You can end up stuck without someone to do your hair and makeup because the rest of the process is simply overwhelming. And, let's face it: do you need one more thing to have to deal with on your wedding day?
A lot of brides feel the need to stun the crowd with their wedding day look. Ever since you and your fiance started shopping for diamond rings, you may have felt that the pressure to make the wedding perfect was on you! But, no worries! We're here to make your life a little easier.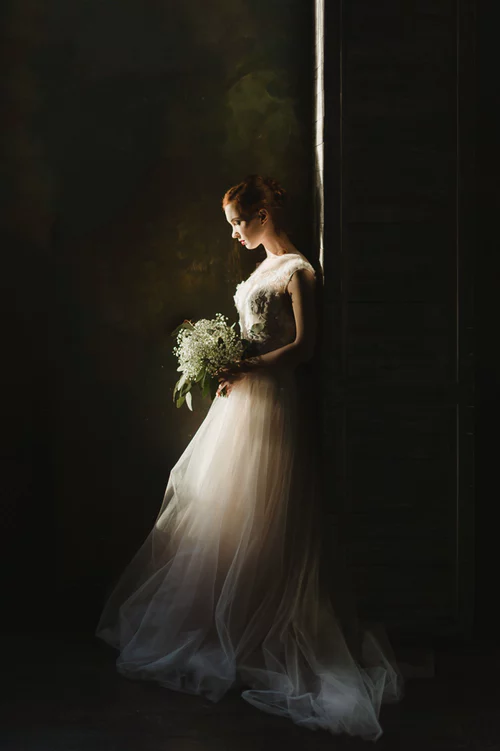 The bridal shows this season has been on it with unique makeup styles that can make any bride's wedding look the main event of the show. Whether your look is classic or modern, these tips from the runway can put your make-up game at the forefront of any wedding conversation.
Silver Eyeliner
Looking for a way to coordinate your ring with your dramatic look? Try a silver cat-eye look. Using neutral eye makeup topped with silver foil eyeliner will make you look subtly sparkle and add dramatic flair. This works especially well if you are utilizing metallic colors in your wedding scheme, as well!
Smokey Eye and Red Lipstick
If you want a classic look with a flair for drama, try a smokey eye with red lipstick. This look was popularized by pin-ups and stars in the '50s and has stood the test of time extremely well.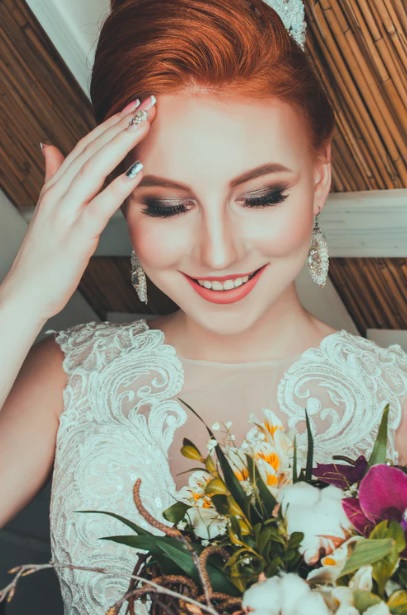 Take a tip from Marilyn Monroe's look and enter with the drama a bride deserves. Bonus points if you are having a vintage-inspired wedding!
Metallic Nails
One of the things that took the bridal runway by storm this season was metallic nail polish. Whether it was the Essie metallic brands that are mixed with real metal dust or the metallic stripes sported through the neutral nail polish of the runway brides, the metallic spark on your nails will go with your jewelry choice and add flair without overtaking your entire look.
Flowers
Flowers were a large theme in the bridal shows this season. Flowers were used to inspire the makeup looks of brides with bright jewel colors.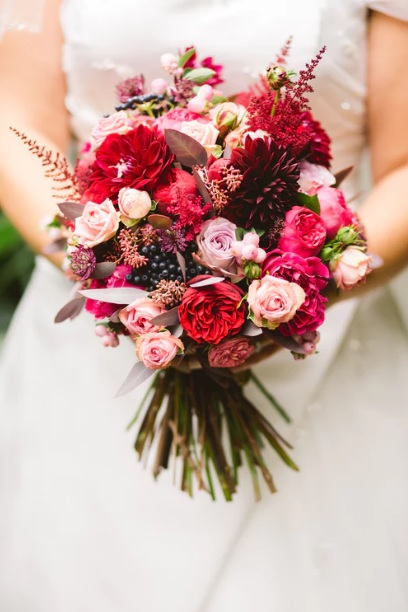 Floral headpieces or flowers in the hair were another common theme between the brides, creating an exotic hair and makeup look that would perfectly fit a destination wedding.
Natural Look
If you're looking to let your dress make the statement, a classic, natural look is the way to go for your wedding day. Brown eyeshadows and light blush will give you a look that compliments your features without changing or overtaking them.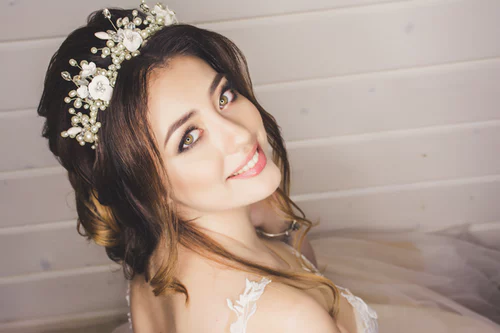 Pink lipstick or dewy lips help to create a look that lets your guest know you are trying for a formal effect without ruining your subtle style. This is perfect for an outdoor or a rural wedding!
Extreme Lashes
False lashes have been popping up a lot more recently on the runway. It's no surprise that bridal makeup is starting to feature them more prominently, as well! Extremely voluptuous false lashes make your eyes truly pop and can be combined with your wedding or make-up color scheme by using giant colored lashes. This look is more dramatic and reminiscent of the red carpet, which is perfect for a bride looking to make an impression on the camera.
If you are getting close to your wedding day and still struggling to come up with make-up ideas, it's completely normal. If you like some of these ideas, borrow, combine, or steal to create your ideal wedding look! No matter what you decide on, you will be the star of your wedding day for your signature makeup.