Sometimes girls (of all ages) just want to watch something nice on tv. By something nice I mean a show that does not involve chopping other people's heads off, swearing like a trooper or have blood and guts scenes all the way through! Believe it or not, some people just want to watch something different.
While many 'girl' tv shows may be classed as tear jerkers, there are also many that have a good story line and a plot to them, making them very desirable to both men and women.
Friends
This American sitcom lasted from 1994 to 2004 with ten seasons to it. The show features six friends all aged between 20 and 30 years old. With names such as Jennifer Aniston, Lisa Kudrow, Matthew Perry, Davis Schwimmer, Matt Le Blanc and Courtney Cox the show was a success from the start.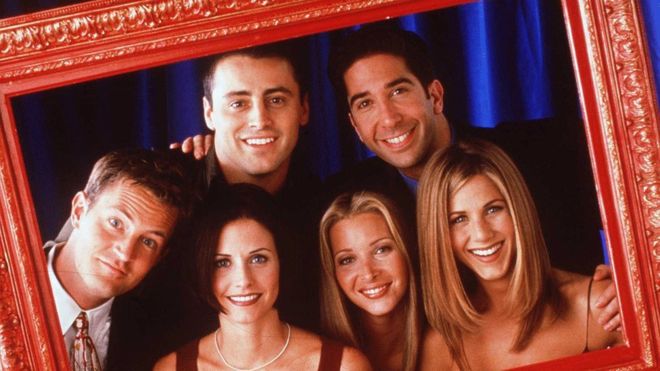 All ten seasons reached the top ten in the ratings with the eighth season making it to number one. The show was one of the most watched in the US, nominated for 62 Primetime Emmy Awards and was the number 28 on TV Guide's 60 Best TV Series of all time.
Buffy the Vampire Slayer
This supernatural drama tv series was produced in 1997 and ran until 2003. In the series we find Buffy Summers playing the role of Vampire slayer. Buffy and her group are chosen to battle against demons, vampires and all manner of evil opponents.
While she wants to live a normal life, Buffy soon learns that she has a special destiny. Buffy has a Watcher who guides and helps her through her trials.
The show was often listed as one of the greatest tv shows of all time and normally had between 4 and 6 million viewers on each airing.
Downton Abbey
This British historical drama is set in the early 20th century and first aired in the UK in 2010. Set in a fictional Yorkshire country estate the plot evolves around an aristocratic family and their domestic servants. Notable events include the outbreak of the First World War, sinking of the Titanic and the Marconi Scandal. The sixth season saw the rise of the working class and the gradual decline of the British aristocracy.
The series won numerous accolades including a Primetime Emmy Award for Outstanding Miniseries and a Golden Globe Award for Best Miniseries.
Downton Abbey was the most watched tv series on both PBS and ITV and was one of the most successful drama series produced.
Jane the Virgin
This romantic comedy/drama show first hit the screen in 2014. The series stars Jane Villanueva (played by Gina Rodriguez) who is a devout 23-year old virgin. Our heroine becomes pregnant when she is accidentally artificially inseminated by her gynaecologist.
In Jane the Virgin season 5 we find our heroine looking to Rafael for answers after she makes a shocking discovery. Rafael attempts to cool things between himself and Jane, while Petra tries to get together with JR.
Jane the Virgin was nominated for Best TV series – Musical and Comedy with Rodriguez winning Best Actress award. The series also received the Peabody Award and was chosen as one of the top 10 TV programmes of 2014.
Orange is the New Black
This American comedy/drama series was based on Piper Kerman's memoir about her experiences at FCI Danbury, a minimum-security federal prison and first showed in 2013. The series ran for 7 seasons before it was announced that number 7 would be the final season.
The series became one of Netflix's most-watched series and receives many accolades. The first season won 12 Primetime Emmy Awards nominations and won three of them.
Orange is the New Black was the first series to win nominations in both comedy and drama categories. It also received 6 Golden Globe nominations, 6 Writers Guild of America Awards and a Peabody Award.
Gilmore Girls
This American comedy/drama debuted in 2000 and starred Lauren Graham and Alexis Bledel. It ran for 7 seasons before ending in 2007.
The show mainly focused on the relationship between Lorelei Gilmore a single mother and her daughter Rory. They live in a fictional town which is filled with several colourful characters who all play a part in the life of the mom and daughter.
The series explored such things as romance, education, ambition and dissappointment as well as the generation gap and social standings.
The show was praised by critics for the witty dialogue and appeal to people of all ages, mixing humour and drama. It drew a large gathering of fans and is now regarded as a cult classic. It was cited as one of the greatest 100 tv shows of all time.
To sum up
Not all girl tv shows are soppy or tear jerkers. There are many series which will have you on the edge of your seat and waiting in anticipation for the next season.
Next time you have a free evening or just fancy watching something a little different, have a go at a girl tv show. Not only will you be pleasantly surprized, you may even find yourself hooked!
Many girl tv shows have been nominated for spectacular awards through the years and many actresses have made their names through girl shows. Often there is no 'blood and gut' in these shows, although sometimes things may get a little out of hand and require a heroine to show her mettle. That's part and parcel of girl tv shows – you never know how they will end!